Lab Made versus GM Food (Biotechnology and Society 2016)
From SynBioCyc
1. In vitro Meat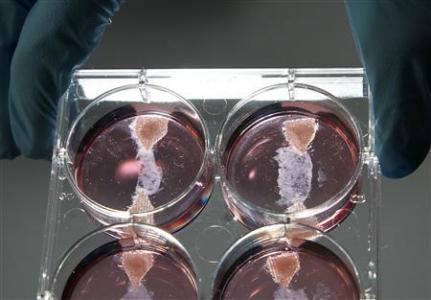 Required Reading/Viewing
Mark Post TED Talk "Meet the new meat". (20 min)
Talk by main scientist behind the $325,000 test tube burger announced in August 2013.
Stephens, N. In Vitro Meat: Zombies on the menu? SCRIPTed 7 (2), August 2010.
General introduction to the state of this technology and its societal implications.
View paper on SCRIPTed website.
Extra Links for the Policy Czar
2. Soylent
Required Reading/Viewing
Widdicombe, L. The end of food: has a tech entrepreneur come up with a product to replace our meals? The New Yorker. May 12, 2014.
Read online
Soylent Subterfuge: When a bad joke turns into a business. PricePlow Blog. July 24, 2013.
Read online
Extra Links for the Policy Czar
Helton, J. Soylent: What happened when I went 30 days without food. The Hustle. Sept. 8, 2015.
Read online
Rhinehart, R. "What's in Soylent" Mostly Harmless Blog. Feb. 14, 2013.
Read online
Also, look at other posts on this blog by Soylent founder.
3. Golden Rice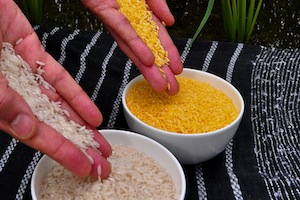 Required Reading/Viewing
Potrykus, I. (2001) The 'Golden Rice' Tale. In Vitro Cell. Dev. Biol. 37:93-100.
Account of the development and dissemination of Golden Rice by its main inventor.
Article posted on Golden Rice.org
Enserink, M. Golden rice not so golden for Tufts. ScienceInsider Sept. 18, 2013.
Details ethical issues with a recent Golden Rice trial involving children in China.
Article on ScienceInsider website
Extra Links for the Policy Czar
4. Roundup Ready Crops
Required Reading/Viewing
Duke, S.O., Powles, S.B. (2008) Glyphosate: a once-in-a-century herbicide. Pest Manag Sci. 64:319-325
Review of the development of glyphosate and resistant GM crops, and evolution of resistant weeds.
Link to article
Entine, J. "Scientists Savage Study Purportedly Showing Health Dangers of Monsanto's Genetically Modified Corn" Forbes Sept. 20, 2012.
Report on reactions to study purporting Roundup Ready® corn causes cancer in rats.
Article at Forbes
Extra Links for the Policy Czar
Official Monsanto Roundup Timeline – Click on the Roundup link in the interactive history presentation
Pollack, A. "As patent ends, a seed's use will survive." New York Times August 24, 2013.
Describes intellectual property issues of selling GM seeds.
Article at New York Times
5. AquAdvantage Salmon
Required Reading/Viewing
Rethink Water DK. Rethinking Fish Farming
Watch video (5 min)
Colburn, J. The Risk of Genetically Engineered Accidents. NEPA Lab Website. Nov. 20, 2015
Read online
Upton, H.F., Cowan, T. Genetically Engineered Salmon. Congressional Research Service. December 8, 2015.
Link to PDF
See especially the section "AquaBounty Case: The First Genetically Engineered Food Fish" that begins on page 10.
Extra Links for the Policy Czar
AquaBounty website - See especially the FAQ under "Innovation".