Hijacking Microbial Factories for Synthetic Biology
From SynBioCyc
Welcome to the Microbe Hackers!

In this FRI stream we do research in the vast and emerging field of synthetic biology. We genetically engineer bacteria for a purpose of our choosing. To facilitate this we also study how to better engineer the microorganisms that we use and how to create better "genetic devices". Genetic devices are the DNA sequences that we create. They code for some specific function inside the cell.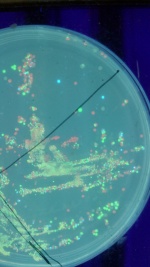 On this page you will find information about the stream, the material the course covers, the research we conduct, and the UT Austin iGEM team.
Stream Research and Experiments
Want your cell to glow green instead of its boring "normal color"?
Give it a genetic device that codes for a green fluorescent protein!
Or, maybe a different color. In Microbe Hackers, you work with these genetically engineered bacteria and you engineer your own bacteria, learning the techniques that will allow you to partake in more comprehensive projects that may span not only your time in Microbe Hackers, but also the time of past and future students. Virtually every organism that you work with was created by a previous Microbe Hacker.
Want your bacteria to be "addicted" to caffeine?
Let's modify its genome and then throw in a genetic device that allows it to live off of caffeine. Previous research by our students can be found covering the creation of caffeinated coli and its use by our students in Austin and further ongoing research on applying the system to complex beverages. This work is currently being written up for submission to a scientific journal. All of the authors are either current or former Microbe Hackers.
Ongoing Research Projects
Currently, we have several active research areas: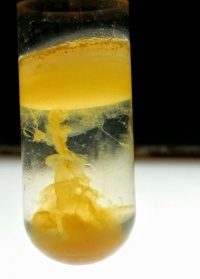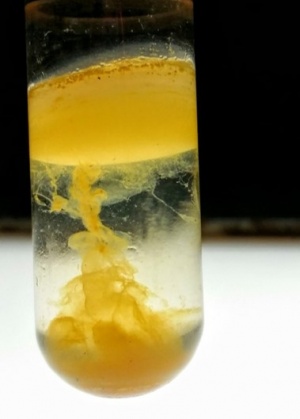 Wrapping up our "Caffeinated Coli" project.
Chromoproteins - Creating a more "stable" set of diverse proteins that produce color. These sequences are used in many of our other projects.
Evolutionary Stability or "EvoStability" - Studying DNA sequence elements that are more prone to mutation, and determining these rates. This data will allow synthetic biologists and other scientists to design "more stable" DNA sequences. This is important for the field of synthetic biology. It is only tangentially related to human disease and we do not actively explore these connections. Some of this research was presented as our 2015 iGEM team project.
Cyanobacteria - These bacteria are photosynthetic algae. We attempt to isolate them from the amazing "UTEX" facility that collects algae from around the world. We also attempt to genetically engineer them. This is challenging for several reasons, and an active area of interest.
Kombucha - This is a "brewed beverage", that is made by yeast and bacteria. We are attempting to isolate and genetically engineer these organisms in hopes of creating a "designer kombucha". This was our 2016 iGEM team project and is still active.
Broad Host Range Plasmid Kit - This is a relatively new project that is part of our 2017 iGEM team project. This project emerged as a potential answer to some of our earlier difficulties working with "non-model" bacteria, such as cyanobacteria, the bacteria in Kombucha and many other bacteria.
Course Related Information

Microbe Hackers is the "synthetic biology" research stream. However, our experiments and research can also be broadly classified as molecular biology, genetic engineering, and microbiology. In terms of concepts covered, we deal a lot with genetics, molecular biology, and microbiology. A lot of our course material overlaps with genetics. So, if you have already taken genetics, many of the concepts will be familiar. If you take genetics after our stream, then you can hopefully use a lot of what you learn in this FRI stream when you take genetics.
Our course material also attempts to cover the most recent news in the field of synthetic biology and how it affects society. This includes CRISPR and the issues dealing with genetic engineering in humans, GMO foods, and how should cutting edge technology be communicated to the public in a way that inspires open dialogue and respect.
For Spring 2019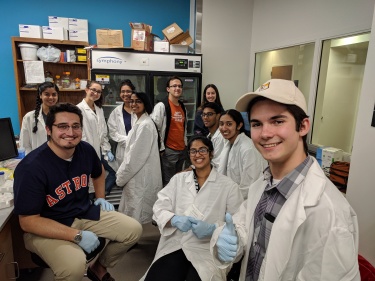 The Lecture portion of this FRI stream should be listed as Mondays 3pm - 5pm. Only ~1 hr of this will be used for lecture. The other hour will be used as a discussion/review/technique time hour for students who want to receive extra exposure to concepts or to the lab prior to beginning that week's lab.
The Lab portion of this FRI stream will be determined during the first week of class based on student schedules. You will have a 4 hour lab period that meets once a week during the first part of the course. Later, you will be able to schedule your own lab time.
There will also be a weekly discussion time. Attendance is strongly suggested, but not required. You are recommended to sign up for a discussion time prior to your lab time each week!
The stream can be taken for: CH204 credit.
NOTE: For Spring 2019 we strongly encourage students to take the course for CH204 credit in the Spring. We are one of the streams that all you to take CH204 credit in Spring 2018, followed by BIO206L or CH369K/BIO377 credit in the fall. Thus, if you stay with the stream for a full year, you can cover both your CH204 and BIO206L required courses through FRI, which means you do research for two semesters instead of the standard (boring?) intro labs.
If you have other questions, please contact Dr. Mishler. My contact information can be found on the FRI website page that brought you here.
Fall 2018 Open House
If you are interested in hearing about these topics or some of the projects that we have in the research lab, visit us during the Fall 2018 open house or contact Dr. Mishler.
Our Fall 2018 Open House consists of a tour of the lab that lasts approximately 30 minutes. During this tour a mentor and Dr. Mishler will introduce you to the stream, some of the research we conduct, and answer questions. Each tour starts promptly at the time indicated. Please show up 5 minutes early and wait in the hallway near the lab door.
NOTE: You must sign up for a tour using this link: Sign up link. Tour wills consist of no more than 16 students at once.
You will be asked to sign in before the tour starts. If your name is not on the list of attendees, you will be asked to come back later. Please sign up well in advance, if you are interested in our stream.
Spring 2016 Class Photo
iGEM Competition
iGEM 2018 Team  : NEEDS TO BE UPDATED. NOT CURRENT
The 2018 iGEM team application period is NOT currently open.
Please see this iGEM 2018 Application. Our iGEM team is composed solely of UT Austin undergraduates. These students develop a new project each year, and work on it from Spring to Fall under the guidance of UT professors and graduate students. At the end of this timeline, representatives go to Boston and present their research at an international meeting. Applications are due in "fall", and the new members are selected by the end of the semester.
If you are a freshman, see below for info on joining the iGEM team.
The Microbe Hackers FRI stream also feeds directly into the UT Austin iGEM team, which is led by Professor Mishler and Professor Barrick. Students who conduct research with us during the year, and especially in the summer, are able to participate in the annual project. Every fall, a handful of students are selected to represent UT Austin at this international academic event that features hundreds of teams from around the world, 90% of which are comprised solely of undergraduates conducting research in synthetic biology. Below is a photo of our 2016 and 2015 teams in Boston.
NOTE: The next application period will open in the near future. If you are interested, please see last year's application (above) for details regarding this year's likely expectations.
Previous iGEM teams
Here are our team pages from 2018, 2017, 2016, 2015, and 2014.